The young and poor suffer from India's dependence on coal for energy security
Indian leaders have long touted the energy security provided by coal as the country's only abundant domestic fuel source. But two groups of Indians, especially, pay a price for this 'security': the young and the vulnerable, especially those living where coal is extracted or burned. 
India's youth, like young people everywhere, are seeing their future stolen from them as greenhouse gas emissions mount, while the poor suffer disproportionately under the environmental and health toll inherent in coal use.
During my three-week visit to Chennai, I found much to be encouraged about in the city's efforts to meet its climate and energy challenges. I wrote about that in this article in Fortune last year. But I also received a first-hand perspective on both of these most groups from Vishvaja Sambath, then a 29-year-old climate activist.
In her day job she works at a non-profit group focused on health and environment issues, particularly in the communities of the city's industrialized north, where several coal-fired power plants are located. Sambath, a leader in a local youth organization known as the Chennai Climate Action Group, gave me what she calls a "toxic tour" of the most environmentally devastated parts of the city. The tour, which group members conduct upon request many times a year, offers a small window on the conditions residents of the area live with every hour of every day — through the eyes of a young person concerned about their own future if India's deep dependence on coal continues.
This is the second of three posts looking at India's double-edged relationship with coal, which causes profound health problems and environmental destruction even as it provides some two thirds of the energy that enables India's remarkable economic growth and development since independence. In Goa, we examined the damage that transporting coal from ports to steel mills causes. In this post we'll look at the ravages that burning coal to produce electricity has caused in one of India's fastest growing cities. Later, we'll look at the damage coal mining has caused, and, paradoxically, the social damage its eventual demise could cause. 
"We are entering into an industrial area," Sambath told me as we began our excursion. "People here are exposed to toxic chemicals. They breathe this in every single second of every day, this toxic air. While we are in that zone, we are exposed to it, too. That's why we call it a 'toxic tour.'"
The northern extreme of Chennai has hosted multiple coal-fired power plants over the years, run by the state government, local companies and the national power provider. Sambath's interest in the area grows from her work both in health care and as climate activist. On the climate front, Chennai is home for one of India's most dynamic youth movements. The Chennai Climate Action Group started in 2019 amid the global movement sparked by Greta Thunberg's call for young people worldwide to push for a more forceful response to climate change.
A core group of young people started with a bicycle rally that year, and then a beach rally a few months later. The beach rally started at 6 am on a Sunday morning — not exactly the most convenient timing for most people. They were expecting only about 300 people to attend. More than 1,500 people of all ages turned out. 
"It was very surprising for us. The reception from the public was huge. We decided we can't stop here," she said. 
The group has organized several other rallies since, including a rain-soaked gathering in 2021 that came to be known as the "umbrella rally." Last December, the group held another major demonstration, this time bringing together a collection of other groups focused on climate action in the city. 
Our tour took us through a landscape that is hard to describe as anything other than dystopian. The history of Chennai — formerly known as Madras, the first major British foothold in India — is essentially one of man's meddling with the area's extensive wetlands. 
But the damage really took hold with the arrival of coal-fired power plants in the latter half of the 20th century and into the 2000s. India's economy was taking off, and Chennai has been one of India's most dynamic manufacturing and technology hubs. The areas surrounding the city are dotted with auto factories and software outsourcing operations attracting waves of migrant workers to the city. 
Demand for electricity has doubled and doubled again, and coal-fired plants were built to meet it. All of them were placed in the poorer northern section of the city, where our tour took place. 
We drove through vast, spoiled areas where the fly ash, a residue from combusted coal, was everywhere. Some of it was deliberately deposited — legally, but with profound environmental destruction nonetheless — but much of it also leaked illegally from the pipes and trucks transporting it.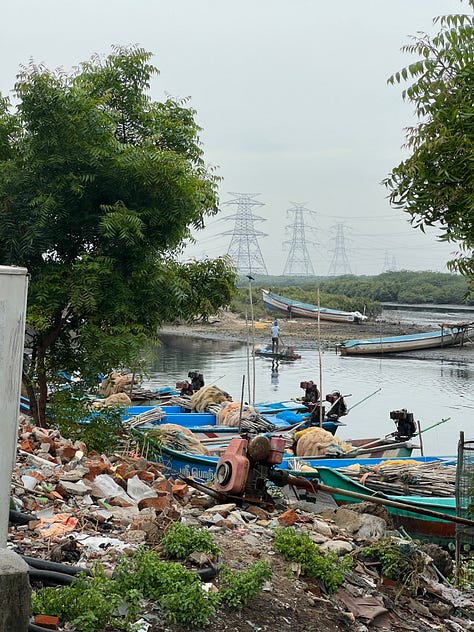 Beyond the destruction of thousands of acres of mangrove wetland — which, as we've seen, could be absorbing atmospheric carbon and providing a barrier of protection against rising sea levels and stronger and more frequent cyclones — the fishing communities that once thrived on these once-robust inland waterways have suffered the most. 
Poor and politically powerless, they've confronted decades of air and water pollution from the coal generators nearby.
Sambath introduced me to Kumaresan, a 45 year-old resident of Ennore.
He was born here. When the first coal-fired power plant arrived and began dumping ash directly into the waterways, it was alarming but didn't change life much at first. Then another plant was built and the problems began to mount: cancers, skin diseases, heart issues, respiratory ailments, fertility maternity challenges, mental health problems. Children have been especially hard hit, including his own teenage son, who died of bone cancer several years back. 
"The land, water and air — it's all been polluted," he told us, standing beside a fetid waterway next to one of the 32 villages in the area. 
Sambath noted the contrast with the economically dynamic southern part of Chennai. "For the other part of Chennai to develop, Ennore is like a colony where we are extracting important resources. We get drinking water from here, petroleum products and electricity. We get a lot from here. It's why the other side of Chennai is flourishing."